Lt Cuthbert J Collingwood D.S.O. R.N. 2nd MTB Flotilla, Hong Kong Coastal Forces
21/10/1913 - 26/12/2002
C J Collingwood joined the Royal Navy 8th September 1932 as a Midshipman.
Promoted to Sub-Lieutenant RN on 23rd February 1938
April 1939 appointed Sub-Lt on HMS Speedy, 1st Minesweeper Flotilla, Portsmouth
Promoted to Lieutenant after serving on HMS Speedy.
Collingwood took command of MTB 11 on 21st October 1939 after it had a lengthy refit in Kowloon following an incident. in the West Lamma channel while under the command of Lt A.J.T. Harris RN in Oct 1939. Lt Harris transferred to HMS Seamor of the West River Flotilla as Executive Officer. [106]
Click here for more information on Lieut Collingwood RN.
After his posting to Hong Kong C.J often sailed with fellow officer Ron Ashby on his gaff rigged cutter as well as sharing Ron's passion of duck shooting in the New Territories. CJ loved dogs and insisted on bringing his dog Bruce along when escaping from Hong Kong.
Photo from Lt Collingwood's collection ©
Bruce, the ships dog, accompanied the escape party through the Japanese lines to Waichow and beyond for one thousand three hundred and eighty miles (2,221 Km). Michael Sullivan who went on to be a leading Chinese art historian was driving for the Friends Ambulance Unit stationed at the Red Cross Centre near Guiyang took over Brucey's welfare. Later in 1942 Michael settled in Chengdu working at the museum of the West China Union University. [30]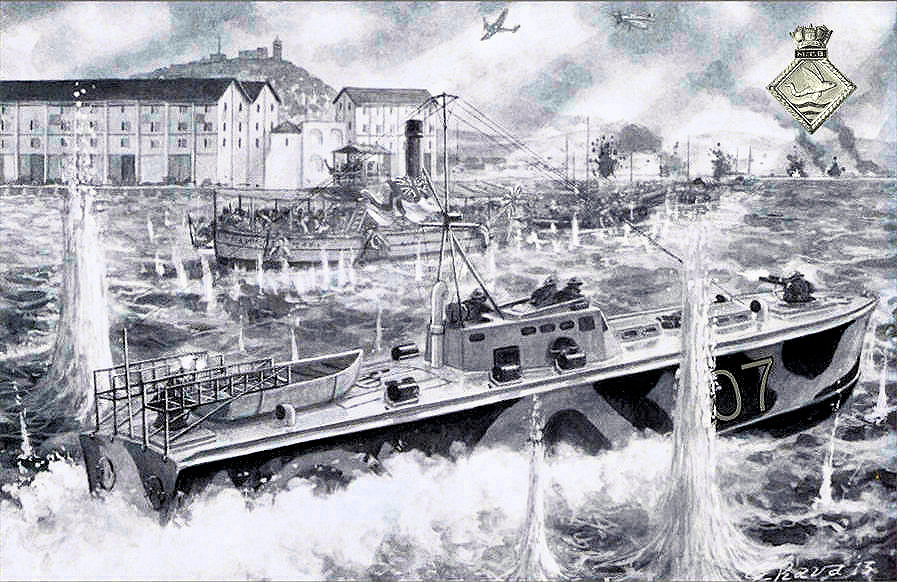 The flotilla took a beating during the battle for Hong Kong.
When the Japanese invaded Hong Kong Island, the 2nd MTB Flotilla was ordered to attack and expend all ammunition shooting up everything in sight. Unbeknown to the flotilla, the Japanese had already established a beach head on the Island west of the Sugar Refinery at North Point.
Guns to the left, guns to the right, guns to the front and cannon from above, on they sped into the fiery jaws of the oriental dragon itself. This was the maritime equivalent of the charge of the light brigade in the Crimea.
Lt Ronnie Ashby whose family motto was "Be Just and Fear Not" led the flotilla with Jix Prest & Buddy Hide at the controls of MTB 07. Pressing home the attack under withering fire from land, sea, and air, they suffered heavy losses in the process. Only three MTB's survived to limp back and come alongside HMS Robin in Aberdeen. Lt Kennedy on MTB "09" towed the stricken "07", peppered with 97 holes and two dead bodies in the engine room, back to base. The flotilla had lost 40% of its attacking force. The attack was arguably the most daring daylight MTB attack of all time, and was referred to as "The Balaclava of the Sea." by Coastal Forces world wide. They were hailed "The bravest of the brave."
Lt Kennedy RNVR: "MTB 11 returned alone from the harbour with her coxswain wounded. There was a long silent pause as we strained our ears to catch the sound of distant engines, but none came. It was a dark day for the flotilla, and for the whole island." [9]
Lt C. J. Collingwood RN was 2nd in command of the 2nd MTB Flotilla under Lt-Cmd Gandy of MTB 10.
On arrival in Rangoon along with Lt Kennedy he joined the staff of Commodore Burma Coast, Rear Adm Cosmo Moray Graham. Leaving Rangoon for Calcutta onboard the Danish Armed Merchant Cruiser "Heinrich Jessen" under her 31 year old master George Rhod Hansen R.I.N.R. which was the Commodore's HQ and the last Merchant ship to leave Rangoon. The Jessen then set sail for Akyab where he took command of a R.I.N Sloop on refugee relief as he was fluent in Hindi.
C. J. stayed on in Burma along with S. P. O. Moore, P. O. Burrows, and Stoker A/B Jack Thorpe onboard an R.I.N Sloop on refugee relief.
Lt Collingwood stayed behind in Akyab, eventually flying out from Chittagong to Calcutta on the 18th April. From there he went on to Ceylon before returning to the UK.
The remaining nine ratings in Akyab eventually left Bombay on 14th April and arrived back in the UK at the end of March 1942.
Lt Collingwood recorded: "One RIN sloop captain did a bunk and so the Commodore put me in command, I being the only officer who could speak Hindi (of course he could speak Hindi because he had been a P&O officer and they carried Indian crews). There were hundreds of Indian refugees here but there was a good supply of rice, but at nearby Mondaw there was a serious shortage so I was sent there bearing supplies for the Indian refugees. My vessel was given meat by the locals in exchange for bringing the rice. From here I went to Chittagong and from there to Calcutta by air and then home."
The remaining nine ratings in Akyab eventually left Bombay on 14th April and arrived back in the UK 1st June1942.
Lieutenant Commander Gandy R. N. (Rtrd) had prevailed against all the odds, and triumphed over adversity to deliver all his people back to safety without loss of life or serious injury after evading capture and escaping from Hong Kong on Christmas Day 1941.
PO Prest: "We travelled by cycles, lorries, junks, and donkeys, but mostly we walked. It was a case of march or die"
Buddy Hide: "On the whole, the moral, spirits, and courage of the party was magnificent. I think it was the shear thoughts of beating the Jap's, and the prospects of getting home after three years, some of us four years from home, that made us carry on."
It is unprecedented in the annuls of the Royal Navy, that a Flotilla evaded capture to escape across an entire continent to fight another day.
Photo from Lt C J Collingwood's collection ©
CJ was born in Kamloops, British Columbia, the son of C. Collingwood, a civil engineer of Long Rock, Penzance and Educated at Bournemouth School.
After returning to the UK from Hong Kong CJ stayed in Coastal Forces, as training officer at Dover and later as SOO at HMS Gregale in Malta.54
CJ and fellow senior officers jokingly referred to the highly tuned thoroughbred boats as the "Hong Kong Costly Force" rather than Coastal Force.
Lt Cuthbert John Collingwood DSO R.N. MiD [MTB 11]
C J was C/O of MTB 27 from 21st October 1939 until he took over as C/O of MTB 11 which was scuttled along with the remaining boats of the 2nd MTB flotilla deep behind enemy lines at Nan'ao on the Dapeng Peninsula in Mirs Bay on 26th December 1941
.
Lt-Cmd Collingwood was Mentioned in Despatches for distinguished services in1946
MTB 11 on Flotilla patrol in formation
For more information on Cuthbert Collingwood click here.
C.J. on the Lewis guns & MTB 11 on patrol;
Photos from the Hide collection ©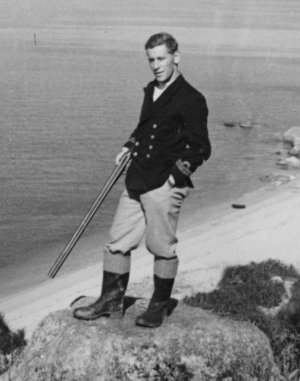 Lt C J Collingwood ashore looking to bag some lunch. He enjoyed shooting & often spent weekends with fellow officer Ashby in the New Territories abord Morning Flight.
Photo from the Hide collection ©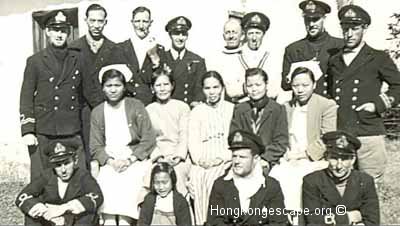 Senior Sino-British Naval officers with nursing staff at Waichow
Back Row: Lt Kennedy RNVR, Lt-Cmd Hsu Heng (Henry) ROC, Lt-Cmd Gandy RN (Rtrd), Lt-Cmd Yorath RN (Rtrd), Cdr Montague RN (Rtrd), Lt Parsons HKRNVR, Lt Ashby HKRNVR, Lt Collingwood RN,
Front Row: Sub-Lt Gee HKRNVR, Sub-Lt Brewer HKRNVR, Sub-Lt Legge HKRNVR, and nurses at Waichow.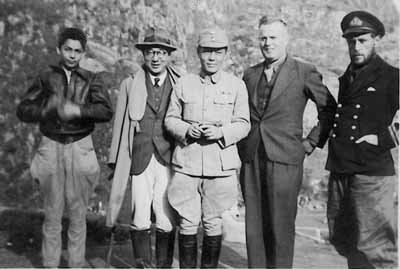 Lt C J Collingwood RN, Dr Robert Lim (Bobby) who ran the hospital in Tuyunguan. Dr Lim was educated at the "George Watson College" in Edingburgh and trained as a physiologist, he married a Scots woman. He had served on the Western Front with British forces in the Great War of 1914-18. He set up the Chinese Red Cross after the Japanese invasion of Manchuria in 1937. He was also a former golfing partner of Adm Chan Chak.
Photo from the Ashby collection ©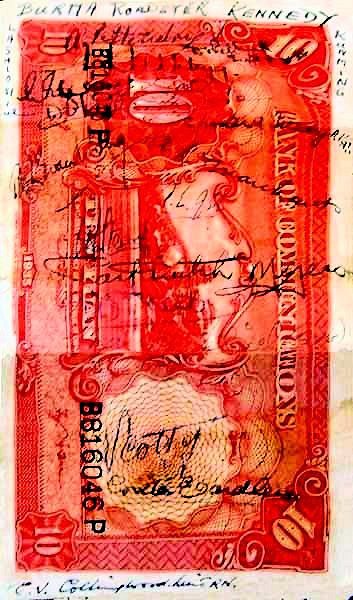 Banknotes signed as souvenirs by escape party members in Liuchow on 20th January 1942 while waiting for a train.
Among the signatures on this 10 Yuan banknote belonging to Lt Kennedy RNVR are;
A Pittendrigh
R R W Ashby
C J Collingwood
Among the signatures on the banknote under belonging to Lt Parsons HKRNVR are;
D S Pethick
E Cox-Walker
H Christensen
A Pittendrigh
E H Brazel
A Kennedy
A L Marchant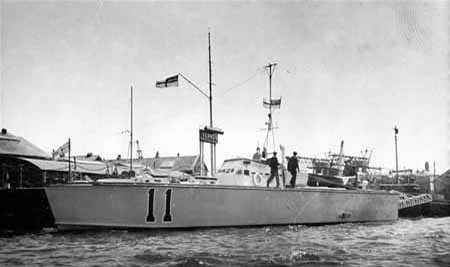 MTB 11 being worked up at HMS Vernon, the first Coastal Forces headquarters, after completion in July 1938 & laying depth charges on exercise in 1940.
Log entry:
10.36; Dropped depth charges; 9 seconds.
10.40 -11.10; Fishing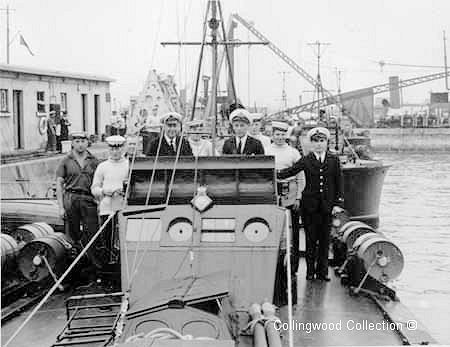 Lt C J Collingwood and crew in 1940
Photo from Lt Collingwood's collection ©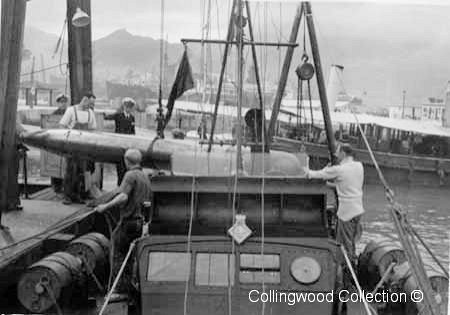 Loading the torpedoes. Each BPB MTB carried two on overhead rails in the engine room. The torpedoes faced forward and were launched through ports in the stern into the flip over gantry rails. The direction of the boat was the direction of the torpedo, so once launched the boat had to veer off to allow the torpedo free way.
Photos from Lt Collingwood's collection©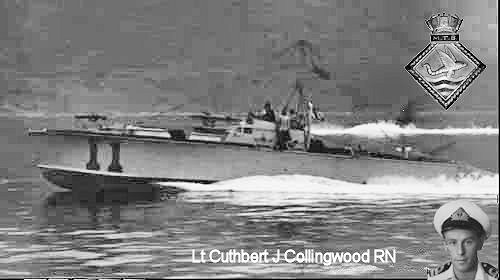 MTB 11 and 09 timing the measured mile in East Lamma Channel 1940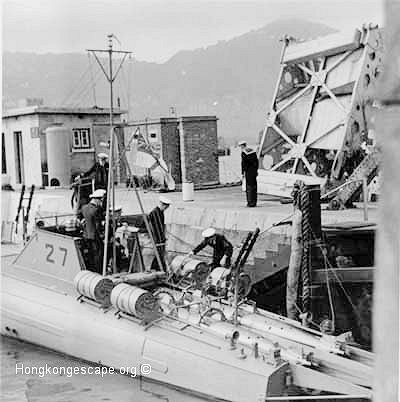 MTB 27, Thornycroft 55 foot ex Kuamintong CMB Kuai 20 completed 10th September 1938 loaded with depth charges and torpedo's getting an XDO inspection in February 1940 with Lt Kilbeee as her C/O after Lt Collingwood who took command of MTB 11.
Photo from the Hide collection ©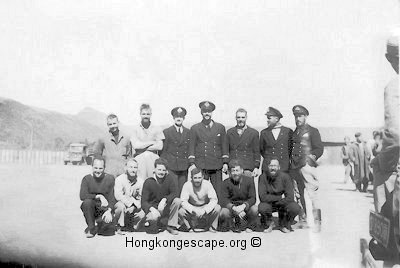 Guiyang Medical centre 25th January 1942
Left: ??, ??, Lt-Cmd Yorath RN (Rtrd), Lt Ashby, Warant-Officer Morley-Wright, Sub-Lt Brewer, Lt Collingwood, with ratings. A/B Jack Holt is 3rd from left with A/B Ed Brazel front row right.
Photo from the Hide collection ©
Huaxi Park near Guiyang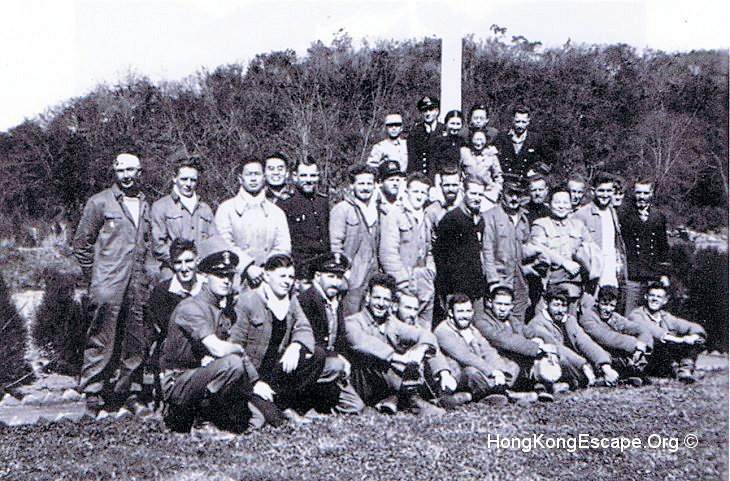 Ships Log: 25th Jan 1942
"Visit to park in the morning. Soccer match in the afternoon, lost 6-1. Dinner in the evening given by the Governor."[5]
Photo from the Hide collection ©

CJ kept an account of the escape and is survived by his widow Kay, son Nigel, & three daughters.
Click here to return to the Waichow Photo
Research and web publication by Buddy Hide Jnr ©
The contents of this web site led to a considerable number of escapee families contacting me and now each other, and remains the principle source of contact and private information for the spin off projects that have followed. The personal accounts enabled me to record the complete and true account of this remarkable episode of Sino-British war time co-operation. The information compiled here has directly resulted in a museum exhibition in Hong Kong, a re-enactment of the escape in Hong Kong and China, with a movie drama and documentary in the making.
Contact | Mwadui | Guest Book | Top | © MCMXCVI Hamstat Integrated Systems | Escape from Hong Kong
Site maintained by Hamstat Integrated Systems Inc
© Hong Kong Escape.Com Web Master 2019