Sub-Lt Arthur Edwin Gee HKRNVR MTB 07 of the 2nd MTB Flotilla, Coastal Forces Hong Kong
1914 - 1965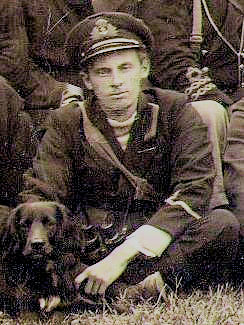 A/Sub-Lt Gee with Lt Collingwood's dog Bruce at Waichow 30th December 1941.
Photo from Buddy Hide's collection ©
Acting Sub-Lt Gee had replaced Sub-Lt G S McGill on 07 who was later lost in action on MTB 12 on 19th December 1941.
Sub-Lt Gee manned a stripped down Lewis Gun on the bridge of MTB 07 when they led the daylight attack on the Japanese crossing from Kowloon to North Point on Hong Kong Island on 19th December 1941.
Lt Collingwood stayed onboard the Danish ship "Heinrich Jessen" and proceeded to Akyab, eventually flying out from Chittagong to Calcutta on the 18th April. From there he went on to Ceylon before returning to the UK.
The remaining nine ratings in Akyab eventually left Bombay on 14th April and arrived back in the UK 1st June1942.
Lieutenant Commander Gandy R. N. (Rtrd) had prevailed against all the odds, and triumphed over adversity to deliver his people back to freedom without loss of life or serious injury after evading capture and escaping from Hong Kong on Christmas Day 1941.
Buddy Hide: "On the whole, the moral, spirits, and courage of the party was magnificent. I think it was the shear thoughts of beating the Japs, and the prospects of getting home after three years, some of us four years from home, that made us carry on."
PO Prest: "We traveled by cycles, lorries, junks, and donkeys, but mostly we walked. It was a case of march or die"
It is unprecedented in the annuls of Royal Navy history, that an entire Flotilla company evaded capture to escape across an entire continent to fight another day.
Sub-Lt Arthur Gee was born in Hong Kong in 1914 and was brought up in Shanghai along with his sister by their father, a Customs and Excise officer. Arthur later returned to Hong Kong to work on the China Mail as a journalist and witnessed the Japanese bombing of China. On the outbreak of war Arthur joined the HKRNVR as an Acting Sub- Lieutenant and replaced Sub-Lt McGill on MTB 07 just prior to the Japanese invasion. During the escape Arthur was seconded along with Sub-Lt Legge to work on ciphers at the British Embassy in Chungking. In June 1942 he was seconded to the Army until October. En route to the UK the ship was torpedoed and Arthur was adrift in a waterlogged raft splashing the water to keep the marauding sharks at bay. He was commissioned into the Imperial RNVR and in 1944 he served as 1st Officer on ML 237 and married. After the war Arthur returned to Hong Kong as night editor on the China Mail.
Members of the Christmas Day escape who returned to help rebuild the post war Colonony of Hong Kong after its return to British control included:
David MacDougall MoI Returned at Brigadier Colonial Secretary
Ted Ross MoI Returned with the British Military Mission
S K Yee Chinese Army Returned with the British Military Mission before going into banking then forming the S.K. Yee Medical Foundation
Lt-Cmdr Hsu Heng (Henry) CN Returned after retiring as Vice Admiral CN in business then became an international hotelier based in Hong Kong
Colonel Harry Owen-Hughes Returned to work in D M MacDougall's administration
Lt Arthur Pittendrigh RNR Returned as Commander of the Maritime Police
Lt Tommy Parsons HKRNVR Returned to Jardine Matheson's
Sub-Lt Arthur Gee HKRNVR Returned as night editor of The China Mail
Sq-Ldr Max Oxford RAF Returned as Deputy Director of Kai Tak International Airport
F W (Mike) Kendall SOE Returned to work in the airline business
Monia (John) Talan SOE Returned to run a travel business before he started up a laundry business
Colin McEwan SOE Returned as Director of physical education
Admiral Chan Chak became the first post-war Mayor of neighbouring Canton in 1945. The following year he became the first post war C-in-C South China Navy.[88]
Later Arthur moved to Canada and after a while joined the Royal Canadian Air Force as a Flight Lieutenant ground crew. Here his skills in ciphers were utilised and he went on to become an expert in Nuclear Warfare before he was medically discharged from the RCAF. Arthur then came back to England where he worked for the Foreign & Commonwealth Office as a Cipher Officer. Arthur passed away prematurely aged 51 in 1965 survived by one son & daughter.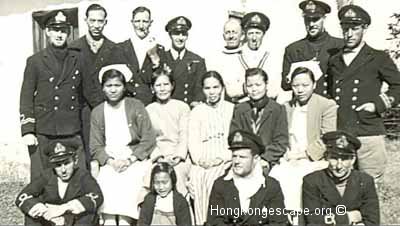 Back Row: Lt Kennedy RNVR, Lt-Cmdr Hsu Heng (Henry) CN, Lt-Cmdr Gandy RN (Rtrd), Lt-Cmdr Yorath RN (Rtrd), ???, Lt Parsons HKRNVR, Lt Ashby HKRNVR, Lt Collingwood RN,
Front Row: Sub-Lt Gee HKRNVR, Sub-Lt Brewer HKRNVR, Sub-Lt Legge HKRNVR, and nurses at Waichow.
Hiding in Telegraph Bay on Christmas day prior to the escape that evening.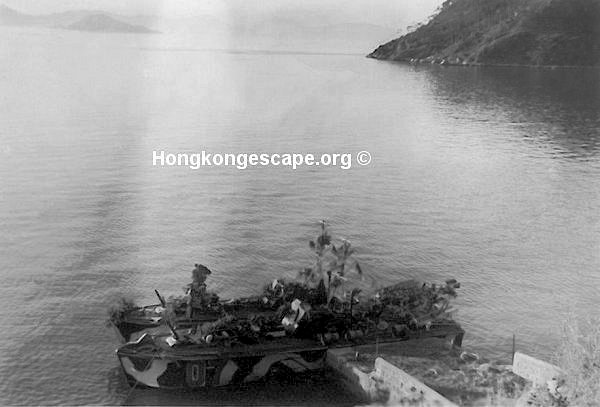 Photo from Ron Ashby's collection ©
MTB 07 alongside the stone pier with 09 covered in straw and branches hiding from enemy aircraft in Telegraph Bay on the day of the escape, Christmas day 1941. 07 still has a full complement of depth charges on deck.
A 1/24 scale model of MTB 07 takes to the water in 2009 in memory of Lt Ron Ashby & the crew. MTB 07 on patrol in Hong Kong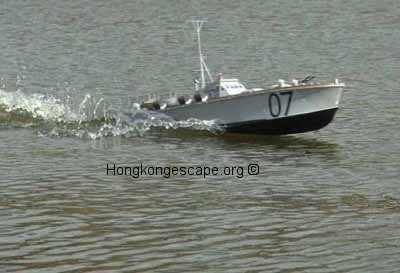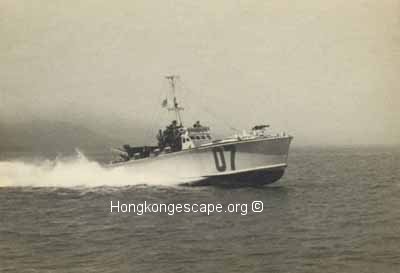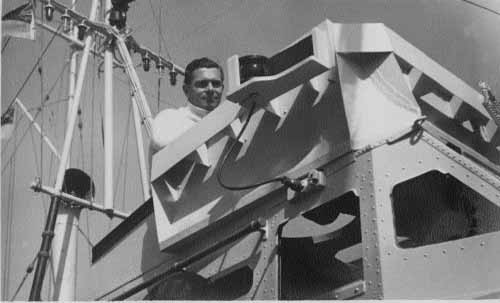 Sub-Lt McGill on 07. He later transferred to 12 & subsequently lost his life when 12 took a direct hit on the Bridge wielding a stripped down Lewis Gun on the 19th December 1941.
Photo from C.J Collingwood & Ron Ashby's collections ©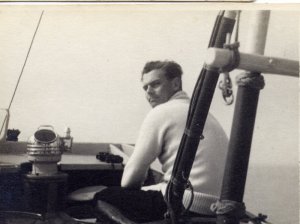 Photo from Buddy Hide's collection ©
Sub-Lt G S McGill on the bridge of MTB 07
McGill was lost in action on MTB 12 on 19th Dec 1941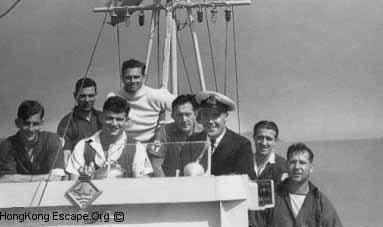 The crew of MTB 07 on patrol in 1940.
Photo from Ron Ashby's collection ©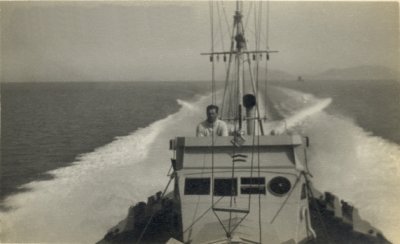 Sub-Lt McGill on 07. He later transferred to 12 & subsequently lost his life when 12 took a direct hit on the bridge on the 19th Dec 1941.
Photo from Ron Ashby's collection ©
MTB 07 Ship's Fair Log reads:
Thurs Oct 16th.
2025.
Slipped "Tern" proceeded past Lamg Tong point to intercept destroyer coming in from Ninepins. Sea 5, wind 5, no attack made, returned to harbour when 1st Lieut was injured and damage sustained by boat owing to extremely bad weather.
To read more on S-Lt Gee click here
Kweiyang 26th January 1942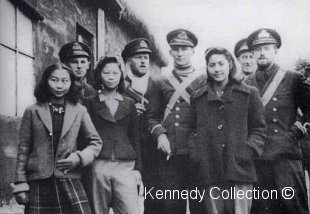 Some of the Officers enjoying a day out in Kweiyang with their female hosts including Dr Lim's 15 year old daughter Effie in the tartan kilt. Sub-Lt's Gee & Legge were both brought up in Shanghai and spoke Mandarin.
The officers left to right are Sub-Lt Gee [MTB 07], Sub-Lt Brewer [MTB 09], Sub-Lt Legge [MTB 11], Lt Parsons [MTB 27], & Lt Alexander Kennedy of MTB 09, the author of the self published book "Hong Kong Full Circle 1939-1945".
Photo from Alex Kennedy's collection ©
Click here to return to the Waichow Photo
Research and web publication by Buddy Hide Jnr ©
The contents of this web site led to a considerable number of escapee families contacting me and now each other, and remains the principle source of contact and private information for the spin off projects that have followed. The personal accounts enabled me to record the complete and true account of this remarkable episode of Sino-British war time co-operation. The information compiled here has directly resulted in a museum exhibition in Hong Kong, a re-enactment of the escape in Hong Kong and China, a book published, with a movie drama and a documentary in the making.
© Hong Kong Escape.org Web Master 1997