Lt Thomas Maurice Parsons H.K.R.N.V.R. MTB 27, 2nd MTB Flotilla, Coastal Forces Hong Kong
08/12/1915 - 19/10/1995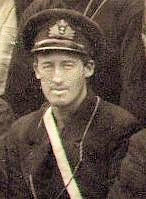 Lt Parsons HKRNVR former ADC to H.E. Sir Mark Young the Governor of Hong Kong. Photo from Buddy Hide's collection ©
Click here fore more information on Lieut Parsons HKRNVR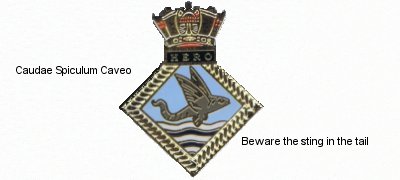 The flotilla had taken a beating during the battle for Hong Kong.
When the Japanese started to invade Hong Kong Island, the 2nd MTB Flotilla was ordered to attack and shoot up everything in sight, and to expend all ammunition in the process. Unbeknown to the flotilla, the Japanese had already established a beach head on the Island west of the Sugar Refinery at North Point. Lt Ronnie Ashby whose motto was "Be Just and Fear Naught" led the flotilla in MTB 07, pressing home the attack under withering fire from land, sea, and air, suffering heavy losses in the process. Only three MTB's survived to limp back to base in Aberdeen. Lt Kennedy on MTB "09" towed the stricken "07" back to base.The attack was arguably the most daring daylight MTB attack of all time, and was referred to as "The Balaclava of the Sea." by Coastal Forces world wide. They were hailed "The bravest of the brave."
Lt Kennedy RNVR: "MTB 11 returned alone from the harbour with her coxswain wounded. There was a long silent pause as we strained our ears to catch the sound of distant engines, but none came. It was a dark day for the flotilla, and for the whole island." [9]
Born in Scotland near Edinburgh, he moved to Hong Kong at a very young age when his father relocated there to start his business career after leaving The Royal Engineers at the end of the 1st World War. Sent back to England to Taunton school, he returned to Hong Kong after leaving school to start work with Jardine Matheson in their shipping department and worked in both Shanghai and Hong Kong before the outbreak of war.
19th March 1938 Tommy Parsons joined the Hong Kong Naval Volunteer Force, later upon mobilization in 1939 this became the Hong Kong Royal Navy Volunteer Reserve (HKRNVR).
At the time the Japanese attacked Hong Kong on his 26th birthday he was a Lt. HKRNVR and ADC to Sir Mark Young the Governor of Hong Kong as well as O/C MTB 27.
The crew of MTB 27 fished the Aberdeen Island swimmers out of the sea one by one with Tommy Parsons personally hauling Bill Wright aboard before MTB 10 returned.
Tommy collapsed while climbing the 2000 foot mountain on the forced march from NanAo to Waichow necessitating a sedan chair. He later had a fall after a night out in Lashio and was admitted to hospital.
He eventually flew 'over the hump' (The Himalayas) with the RAF to India, and returned to England by boat where he transferred to the Imperial RNVR with the rank of Lt. and posted to HMS Hornet the MTB base at Gosport on the 1st May 1942 for a short period. After a short spell in hospital he was posted to HMS Europa in Lowestoft.
In January 1944 he was transferred to Ceylon where his knowledge of south China and Cantonese could be put to better use and he served with Naval Intelligence in HMS President and HMS Highflyer until the end of the war. It was while he was in Ceylon that he met and married Elizabeth Fraser who was serving with the WRNS in Trincomalee.
After the end of the war he returned to Hong Kong to continue his career with Jardine Matheson until his retirement in 1969 as manager of their property department. Some five years later he took up employment for a shipping company in Cairo before finally taking retirement permanently some three years later. [75]
His younger brother David (Pte. DO, V3234, HKVDC. The Recce Unit HKVDQ) was a valued member of the SOE, Dan Waters & Alison McEwan recorded in writing up Colin McEwan's diary "David Orchard Parsons worked in Jardine's. He was born in Hong Kong and educated partly in Hong Kong and partly in Britain. Aged 20, he was the youngest member of Z Force when the Japanese attacked. He was a member of the Mobile Column of the HKVDC before joining Z Force." .[11]
"The authors have indeed been fortunate to have had the assistance of David Parsons who was, until he passed away in the summer of 2006, apparently the only surviving member of Z Force. He corresponded with the
Author (Waters) and was very helpful in answering questions and providing a number of valuable, unpublished papers. To have had someone to whom one could refer, who was actually present fighting in Z Force together with
McEwan against the Japanese, was of immense value..[11]
Tommy Parsons and fellow senior officers jokingly referred to the highly tuned thoroughbred boats as the "Hong Kong Costly Force."
Lt Parsons was the third OC of MTB 27, the first being Lt Collingwood RN who transferred to MTB 11, followed by Lt Kilbee HKRNVR who then took command of MTB 08 in April 1940.
Lt Collingwood stayed onboard the Danish ship "Heinrich Jessen" and proceeded to Akyab, eventually flying out from Chittagong to Calcutta on the 18th April. From there he went on to Ceylon before returning to the UK.
The remaining nine ratings in Akyab eventually left Bombay on 14th April and arrived back in the UK 1st June1942.
Lieutenant Commander Gandy R. N. (Rtrd) had prevailed against all the odds, and triumphed over adversity to deliver all his people back to safety without loss of life or serious injury after evading capture and escaping from Hong Kong on Christmas Day 1941.
PO Prest: "We travelled by cycles, lorries, junks, and donkeys, but mostly we walked. It was a case of march or die"
Buddy Hide: "On the whole, the moral, spirits, and courage of the party was magnificent. I think it was the shear thoughts of beating the Jap's, and the prospects of getting home after three years, some of us four years from home, that made us carry on."
It is unprecedented in the annuls of Royal Navy history, that an entire Flotilla company evaded capture to escape across an entire continent to fight another day.
MTB 27 was scuttled along with the remaining boats of the 2nd MTB Flotilla at Nan'ao in Mirs Bay China on 26th December 1941
MTB 27 was fitted with experimental exhaust mufflers and was known as the silent boat.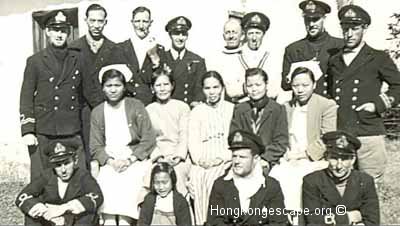 Senior Sino-British Naval officers with nursing staff at Waichow
Back Row: Lt Kennedy RNVR, Lt-Cmdr Hsu Heng (Henry) CN, Lt-Cmdr Gandy RN (Rtrd), Lt-Cmdr Yorath RN (Rtrd), Cdr Montague RN (Rtrd), Lt Parsons HKRNVR, Lt Ashby HKRNVR, Lt Collingwood RN,
Front Row: Sub-Lt Gee HKRNVR, Sub-Lt Brewer HKRNVR, Sub-Lt Legge HKRNVR, and nurses at Waichow.
Guiyang 26th January 1942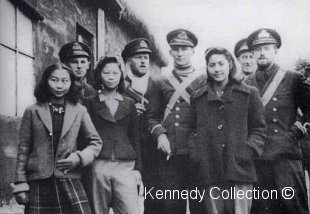 Officers enjoying a day out in Guiyang with their female hosts including Dr Lim's 15 year old daughter Effie in the tartan kilt. Sub-Lt's Gee & Legge were both brought up in Shanghai and spoke Mandarin.
The officers left to right are Sub-Lt Gee [MTB 07], Sub-Lt Brewer [MTB 09], Sub-Lt Legge [MTB 11], Lt Parsons [MTB 27], & Lt Alexander Kennedy of MTB 09, the author of the privately published book "Hong Kong Full Circle 1939-1945"
Photo from the Kennedy collection ©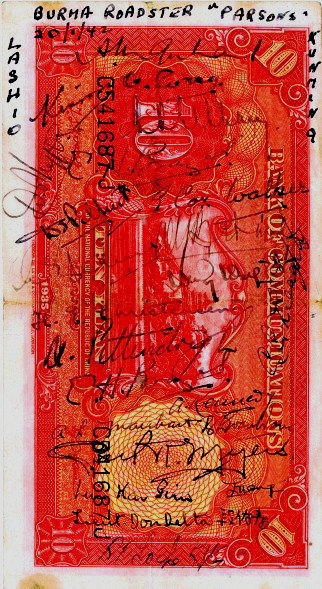 Banknotes signed as souvenirs in Kunming by escape party members, and various AVG, and 204 Military Mission (Tulip Force) members who had come up the Burma Road on their way into China.
Among the signatures on this 10 Yuan banknote belonging to Lt Parsons HKRNVR are;
Photo from the Hide family collection ©
The banknote under is signed by;
They also swapped their Chinese army padded jackets for lighter clothing with the 204 Commando Mission.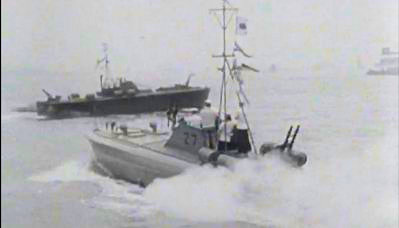 MTB 27, ex Kuamintong CMB Kuai 20 leaving harbour for exercises in March 1940 with Lt Kilbeee as her CO.
Photo from the Hide collection ©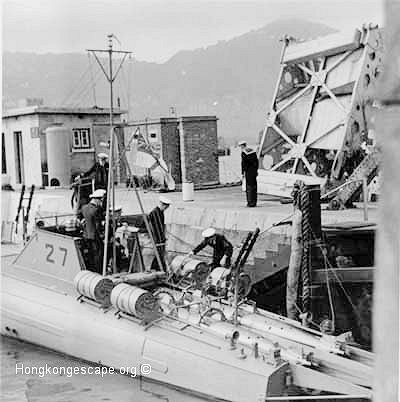 MTB 27, Thornycroft 55 foot ex Kuamintong CMB Kuai 20 completed 10th September 1938 loaded with depth charges and torpedo's getting an XDO inspection in February 1940 with Lt Kilbeee as her C/O.
Photo from the Hide collection ©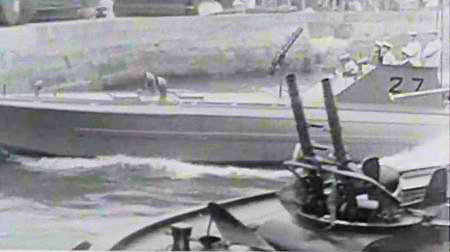 MTB 27 underway with Lt Kilbee in command in March 1940
Photo from the Hide collection ©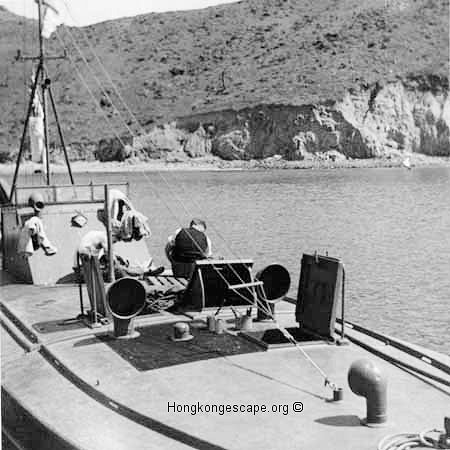 MTB 27 alongside HMS Robin in Mirs Bay
Photo from the Hide collection ©




























MTB 27 alongside HMS Robin Photo from the Hide collection ©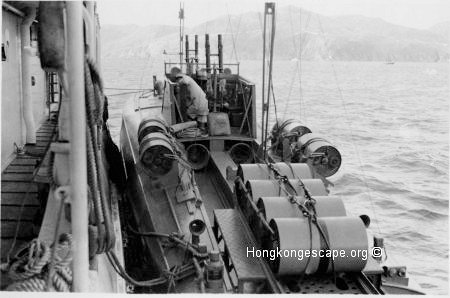 MTB 27 alongside HMS Robin loaded with depth charges in lieu of torpedo's.
Photo from the Hide collection ©
Click here to see a CMB similar to MTB's 26 &27 on the River Thames in London 1939

MTB 27 on patrol
Photo from the Hide collection ©
Members of the Christmas Day escape who returned to help rebuild the post war Colonony of Hong Kong after its return to British control included:
David MacDougall Returned as Brigadier Colonial Secretary
Ted Ross Returned with the British Military Mission
S K Yee Returned with the British Military Mission before going into banking then forming the S.K. Yee Medical Foundation
Hsu Heng (Henry) Returned after retiring as Vice Admiral CN, in business then became an international hotelier based in Hong Kong
Colonel Harry Owen-Hughes Returned to work in D M MacDougall's administration & as Commandant of the post war HKVDC
Arthur Pittendrigh Returned as Commander of the Maritime Police
Tommy Parsons Returned to Jardine Matheson's
Arthur Gee Returned as night editor of The China Mail
Max Oxford Returned as Deputy Director of Kai Tak International Airport
F W (Mike) Kendall Returned to work in the airline business
Monia (John) Talan Returned to run a travel business before he started up a laundry business
Colin McEwan Returned as Director of physical education
Admiral Chan Chak became the first post-war Mayor of neighbouring Canton in 1945. The following year he resigned to become the first post war C-in-C South China Navy. [85]
For more information on Tommy Parsons click here
Click here to return to the Waichow Photo
Research and web publication by Buddy Hide Jr ©
The contents of this web site led to a considerable number of escapee families contacting me and now each other, and remains the principle source of contact and private information for the spin off projects that have followed. The personal accounts enabled me to record the complete and true account of this remarkable episode of Sino-British war time co-operation. The information compiled here has directly resulted in a museum exhibition in Hong Kong, a re-enactment of the escape in Hong Kong and China, a book published, with a movie drama and a documentary in the making.
© Hong Kong Escape.org Web Master 1997