Av.Rainfall 738mm or 29" Rainy Season: Oct - April
Hottest Season: Oct - January Av Temperature Max 34º C ( 93º F) Min. 18º C ( 65º F)
Coolest Season: June - August Av. Temperature Max.29º C (85º F) Min 13º C. (55º F)
We used to get a nightly visit by Hyena's & Jackal's scavenging for food. Also scorpions and snakes were prevalent, one day a Black Mamba raced down the gravel drive all the way to the back yard. The Black Mamba get their name from the interior of their mouth as the skin is various shades of grey. They have "don't mess with me" written all over them and move extremely fast.
The Avenue was planted with colourful Flamboyant trees and also Acacia's.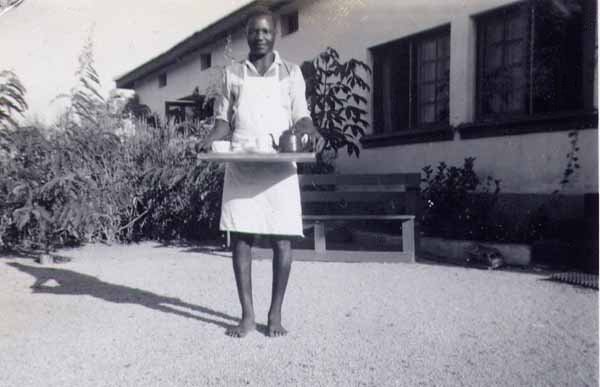 Charlie brings out the afternoon tea & of course Bonzo the dog wants his share as well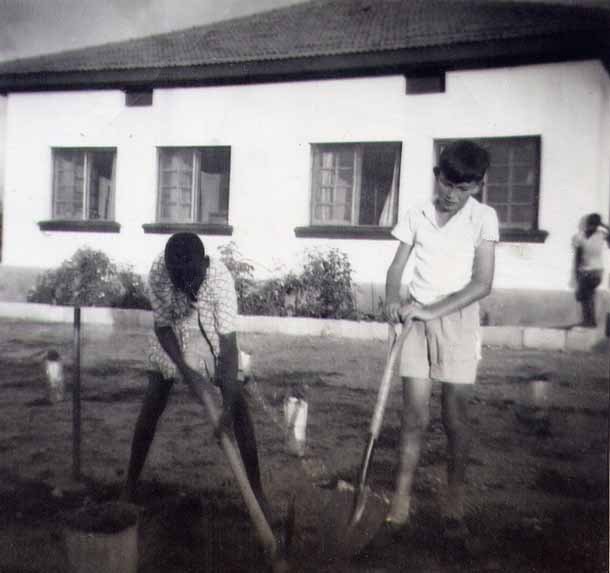 David Hide tending the garden down the side of the house with a little help from his friends
In the garden tending the chickens.The garden's were bordered with the Manyara bush
[ Euphorbia tiraculli ] which has a milky sap that is very irritating to the skin and eyes.
Rearing chickens was a hazardus busines with the vultures ever present overhead.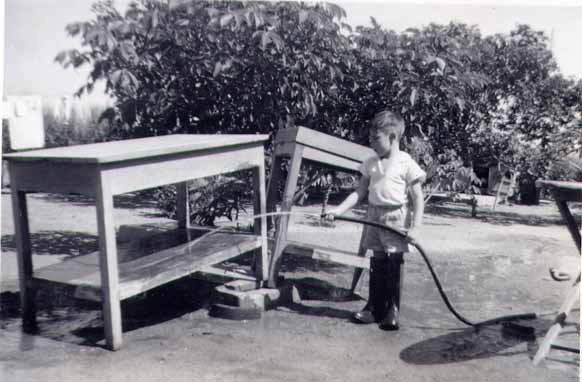 Peter Hide scrubbing down the kitchen tables & with a family pet in the rollover photo.
Louis Staalberg VQ3FN, now N7LS.
Grid Locator = KI66TL
One of our neighbours was Louis Staalberg VQ3FN [KI66TL] at 29 Hopley Avenue with his 20m 3 element rotary
yagi array which always facinated me. This was where the first seeds were sowed that led to me gaining my
own Amateur Radio licence, first in Antarctica as VP8FAR then here in the UK as G1CWP & then G0LFF.
Links to other Mwadui sites
| Contact | Home | Guest Book | Top | ©2007 Hamstat Integrated Systems | Mwadui | RHS | Escape from Hong Kong | HMS Victory's Cutter |