Lt Alexander Kennedy VRD R.N.V.R. 2nd MTB Flotilla, Coastal Forces Hong Kong
02/09/1917 - 12/06/1999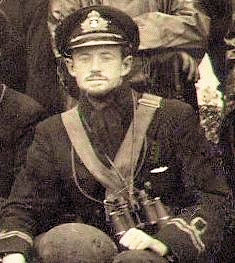 Lt Alexander Kennedy RNVR at Waichow 30th Dec 1941
Photo from Buddy Hide's collection ©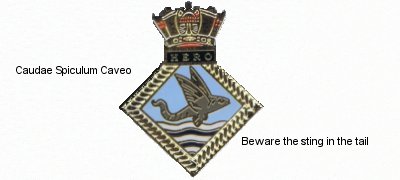 26.08.1937 Joined RNVR (Clyde Division) as a Midshipman
6th October1939 Arrived in Hong Kong aboard the eleven thousand ton P&O Troop-ship Ettrick, the only purpose built troop-ship of the line to join HMS Tamar (RN base, Hong Kong) as Acting Sub-Lt on MTB 10 under Lt-Cmdr D G (Knobby) Clark RN the senior officer of the Flotilla followed briefly by Lt-Cmdr Boldero before taking command of MTB 09 early in 1940 from Lt K A Watson RN. Lt Kennedy gained a Mentioned in Despatches for his action in Kowloon Harbour on the 19th December 1941.
Lt Alexander Kennedy had an astonishing coincidence. His wife to be left Hong Kong onboard the SS Ulysses of the Blue Funnel line on the morning of Sunday 7th December bound for Australia and the USA. The "Ulysses" was torpedoed and sank off the coast of South Carolina on the 11th April 1942. The entire crew and passengers were rescued by a US Destroyer. After some weeks of American hospitality they departed from New York onboard the SS Myrmidon bound for Glasgow arriving on the same day as the 2nd MTB Flotilla crews on board the "Narkunda" arriving on 22nd May.
Failing eyesight prevented Kennedy from watch keeping and he was posted to HMS St Christopher, the Coastal Forces training base at Fort William. As the base was being wound down for decommissioning in December 1944 Kennedy applied for and was accepted to attend the Staff Officer training course at the Royal Naval College, Greenwich. On completion he joined the staff of Rear-Admiral Rivett-Carnac at the Admiralty with the rank of Lt-Cdr RNVR, planning an advanced Pacific base. In April 1945 Kennedy flew out to Sydney, Australia as ADC to the Admiral. He then transferred to the staff of Commodore Murray-Smith on board the aircraft carrier HMS Pioneer, with the title Lieut-Cmdr Staff Officer (Logistics) Pacific Fleet, Despatches.
The Pioneer was later attached to Admiral Harcourt's task force to re-occupy Hong Kong. Back in Hong Kong Kennedy met fellow escapee MacDougall, now with the military title of Brigadier Colonial Secretary. He also met Colin McEwan again. Kennedy made sure was ashore in Hong Kong when the formal Japanese surrender took place on 16th September, thus completing his full circle.
"I have been a sort of Marco Polo in reverse."
Kennedy was awarded the VRD for twenty years service as an officer in the Royal Naval Volunteer Reserve.
Kennedy wrote Hong Kong Full Circle 1939 - 1945 in 1949 but could not get it published, he eventually self published with 500 copies in 1969.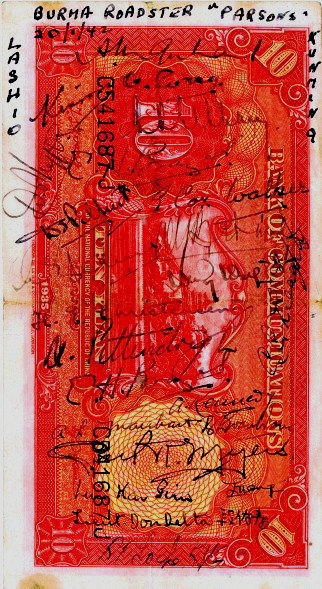 Banknotes signed as souvenirs in Kunming by escape party members, various AVG, and 204 Military Mission (Tulip Force) members who had come up the Burma Road on their way into China.
Among the signatures on this 10 Yuan banknote belonging to Lt Parsons HKRNVR are;
Photo from the Hide family collection ©
They also swapped their Chinese army padded jackets for lighter clothing with the 204 Commando Mission.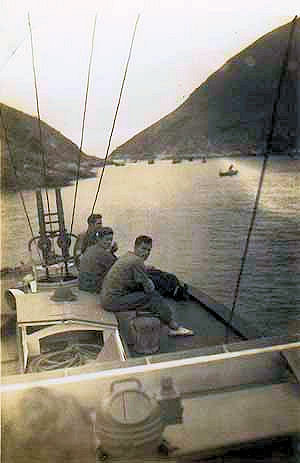 Ships Log MTB 07 9th Dec 1941
07.00 Proceeded back to base with 09
07.30Secured in Aberdeen base
08.45 Air Raid: Slipped
08.55 Secured on lighter 261, entrance to Aberdeen Channel. [5]
Some of the crew of MTB 09 taking a smoko in Aberdeen Channel 9th December 1941 during the battle for Hong Kong.
MTBs 07 & 09 spent all day together dodging bombs. [5]
From the left Stoker A/B Charlie Foster, Coxswain Bill Schillemore, and A/B Bob Hempenstall
Photo from the Ashby collection ©
Alex Kennedy and fellow senior officers jokingly referred to the highly tuned thoroughbred boats as the "Hong Kong Costly Force" rather than Coastal Force.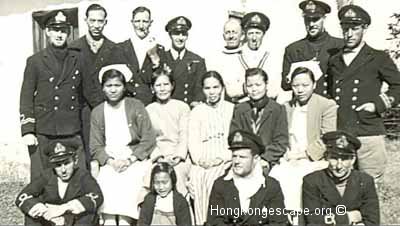 Senior Sino-British Naval officers with nursing staff at Waichow
Back Row: Lt Kennedy RNVR, Lt-Cmdr Hsu Heng (Henry) CN, Lt-Cmdr Gandy RN (Rtrd), Lt-Cmdr Yorath RN (Rtrd), Cdr Montague RN (Rtrd), Lt Parsons HKRNVR, Lt Ashby HKRNVR, Lt Collingwood RN,
Front Row: Sub-Lt Gee HKRNVR, Sub-Lt Brewer HKRNVR, Sub-Lt Legge HKRNVR, and nurses at Waichow.
The Crew of MTB 09 at Waichow on 30th December 1941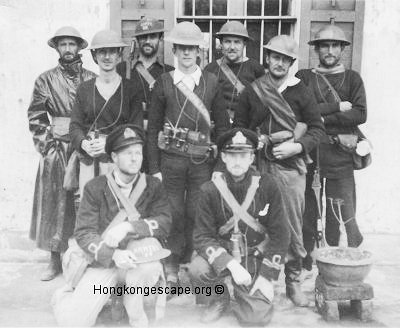 Photo from Lt Ashby's collection ©
MTB 09 Crew at Waichow,
Back Row: A/B Penny, A/B Leslie [Lofty] Gurd, L/Tel Harold. P. Hill, A/B Robert Hempenstall
Middle Row: Stoker A/B Charles Foster, L/S Coxswain William Schillemore,MiD; S.P.O. Ronald J. C. (Jez) Priestley, MiD;
Front Row: Sub-Lt Tommy Brewer, Lt; Alexander Kennedy [OC] MiD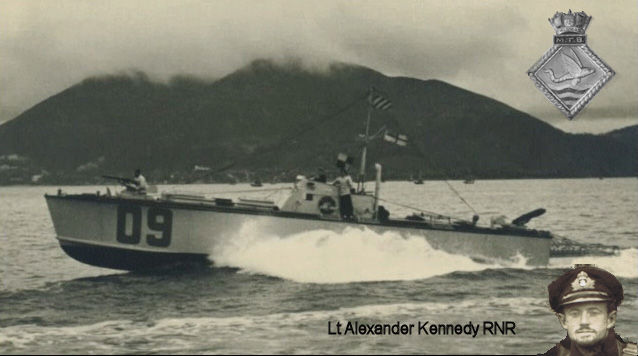 MTB 09 was scuttled along with the remaining 2nd MTB Flotilla behind enemy lines off Nan'ao, Mirs Bay, China 26th December 1941.
Photo from Lt Collingwood's collection ©
Under camouflage in Telegraph Bay on Christmas Day 1941 just hours prior to the escape that evening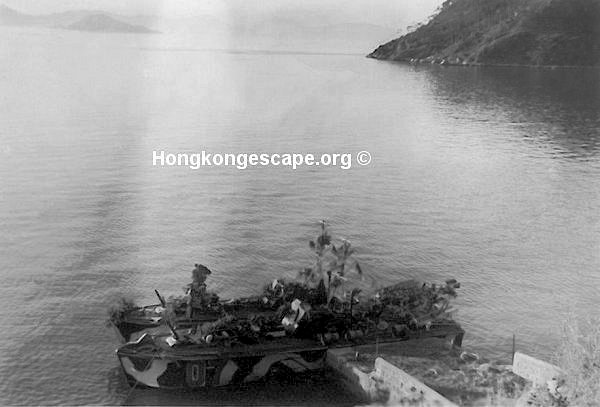 MTB's 07 & 09 under camouflage alongside the stone pier in Telegraph Bay hiding from enemy aircraft just hours before the escape, on Christmas Day 1941. 07 still has a full complement of depth charges on deck.
Photo from the Ashby collection ©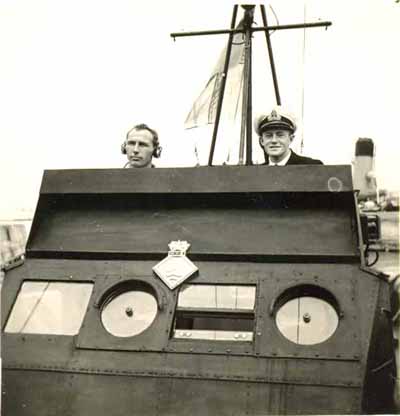 L/Tel Harry Hill ?? and Lt Alex Kennedy on 09s bridge.
Photo from the Kennedy collection ©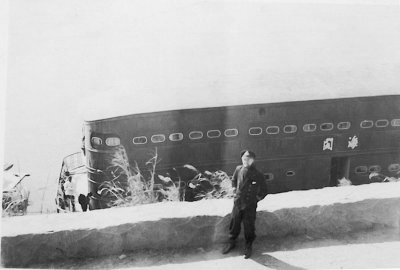 Lt Kennedy at the Sea Palace in Kukong 6th-16th January 1942
Photo from Ron Ashby's collection ©
The Sea Palace was a floating brothel moored with the hundreds of houseboats. Lt-Col Owen Hughes arranged with the owner to have it had cleared out and rented to accommodate the escape party while at Shaoguan [Kukong].
The Sea Palace was also used later by the BAAG after it was formed by Lindsay Ride at the Methodist Mission in Kukong for a short while.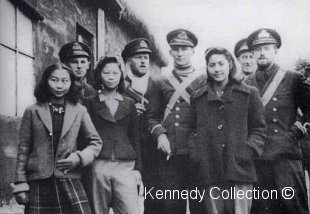 Guiyang 26th January 1942
Some of the Officers enjoying a day out in Guiyang with their female hosts including Dr Lim's 15 year old daughter Effie in the tartan kilt who spoke her native tongue with a Glasgow accent. Sub-Lt's Gee & Legge were both brought up in Shanghai and spoke Mandarin.
The officers left to right are Sub-Lt Gee [MTB 07], Sub-Lt Brewer [MTB 09], Sub-Lt Legge [MTB 11], Lt Parsons [MTB 27], & Lt Alexander Kennedy of MTB 09, the author of the self published book "Hong Kong Full Circle 1939-1945."
Photo from Lt Alex Kennedy's collection ©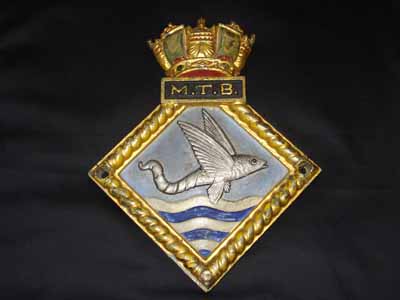 One of two boats crests salvaged from the 2nd MTB Flotilla. Kennedy bribed a rating to carry the bronze crest of MTB 09 all the way across China and back to the UK after his 1st Officer Brewer had removed it, but decided it was too heavy to carry.
The other crest was salvaged from MTB 08 by Sub-Lt Bush HKRNVR after it blew up on the slipp in Aberdeen during an IJA bombing raid on 16th December 1941.
Photo from Buddy Hide's collection ©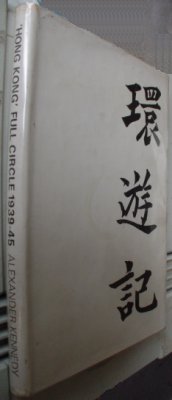 Hong Kong Full Circle 1939-1945 by Alex Kennedy. Self published with 500 copies printed by Harrison & Sons Ltd. London 1969
Alex also recounted the escape in the "Press & Journal 29th June 1942.
For more information on Alexander Kennedy click here.
Research and web publication by Buddy Hide Jnr ©
The contents of this web site led to a considerable number of escapee families contacting me and now each other, and remains the principle source of contact and private information for the spin off projects that have followed. The personal accounts enabled me to record the complete and true account of this remarkable episode of Sino-British war time co-operation. The information compiled here has directly resulted in a museum exhibition in Hong Kong, a re-enactment of the escape in Hong Kong and China, a book published, with a movie drama and a documentary in the making.
© Hong Kong Escape.org 1997