Lt Alexander Kennedy VRD R.N.V.R. 2nd MTB Flotilla, Coastal Forces Hong Kong
02/09/1917 - 12/06/1999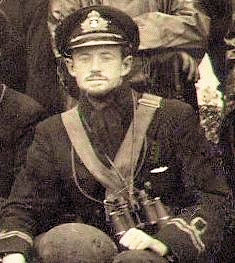 Lt Alexander Kennedy RNVR at Waichow 30th Dec 1941
Photo from Buddy Hide's collection ©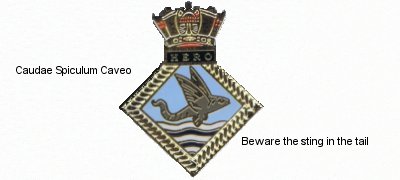 The flotilla had taken a beating during the battle for Hong Kong.
When the Japanese started to invade Hong Kong Island, the 2nd MTB Flotilla was ordered to attack and shoot up everything in sight, and to expend all ammunition in the process. Unbeknown to the flotilla, the Japanese had already established a beach head on the Island west of the Sugar Refinery at North Point. Lt Ronnie Ashby whose motto was "Be Just and Fear Naught" led the flotilla in MTB 07, pressing home the attack under withering fire from land, sea, and air, suffering heavy losses in the process. Only three MTB's survived to limp back to base in Aberdeen. Lt Kennedy on MTB "09" towed the stricken "07" back to base.The attack was arguably the most daring daylight MTB attack of all time, and was referred to as "The Balaclava of the Sea." by Coastal Forces world wide. They were hailed "The bravest of the brave."
Lt Kennedy RNVR: "MTB 11 returned alone from the harbour with her coxswain wounded. There was a long silent pause as we strained our ears to catch the sound of distant engines, but none came. It was a dark day for the flotilla, and for the whole island." [9]
After 3000 miles traveling overland through China and Burma he arrived in a deserted Rangoon.
Lt Kennedy recorded: "Along with two old ship-mates, Petty Officer Dyer and Able-seaman Downey, I was sent to join His Majesty's Burmese minesweeper 'Somagyi', and we drove to the docks in a jeep piled high with gear, Rangoon looked even more desolate than ever. We were witnessing the complete disintegration of civil order, and it was a sad and ugly site."
Lt Kennedy proceed up the coast to Akyab in the five hundred and seventy four ton minesweeper Somagyi with a flotilla of M. Ls crewed by escape party ratings.
As Gandy, Ashby, and` ratings departed Calcutta for Bombay, Kennedy along with his fifteen ratings left Akyab (Sittwe) onboard the five thousand ton British India Steam Navigation Company's " SS Ellenga" bound for Calcutta with over two thousand refugees crammed on deck.[9]
Lt Kennedy: "The 'Laconia' was followed into harbour by another troopship, the 'Narkunda', and to our surprise Gandy and the other half of the M.T.B. party were on board. We were ordered to transfer and so all joined forces again after an interval of two months. The 'Laconia' party received a warm welcome, perhaps not so much as old ship-mates but as extra hands to share duties of guarding the six hundred Italian prisoners-of war being taken to England in the ship. On board the 'Narkunda' the MTB party was almost complete." [9]
The Narkunda set sail again on the 19th April, but had to return due to engine trouble. This time we anchored in Table Bay with no ships boats for a run ashore. We finally got under way on the 28th with a ten-day passage to Freetown.
After two days in Freetown re-victualing the Narkunda shaped course for the UK. A concert called "The Killjoys" had been arranged and organized by Lt-Cdr Gandy, Lt Ashby, PO Stonell, & L/S (Pony) Moore and performed by the combined ships companies onboard of HMTB's, HMT "Narkunda", HMS "Ranchi", "Cilicia," "Cockchafer" & "Birmingham" on Thursday 15th May 1942. The performers from the MTB's were (Pony) Moore, Al Rutter, & Eddie Charleson. As they headed north frequent life boat drill exercises were carried out and the order to sleep fully dressed was given as they negotiated the U-boat packs in the north Atlantic continuously zigzagging en route for the UK. Gandy, Ashby, & Kennedy along with 22 ratings finally arrived in the King George V dock, Sheildhall, Glasgow late afternoon on Friday 22nd May 1942 onboard the "Narkunda."[15]
Lt Collingwood stayed onboard the Danish ship "Heinrich Jessen" and proceeded to Akyab, eventually flying out from Chittagong to Calcutta on the 18th April. From there he went on to Ceylon before returning to the UK.
The remaining nine ratings in Akyab eventually left Bombay on 14th April and arrived back in the UK 1st June1942.
Lieutenant Commander Gandy R. N. (Rtrd) had prevailed against all the odds, and triumphed over adversity to deliver all his people back to safety without loss of life or serious injury after evading capture and escaping from Hong Kong on Christmas Day 1941.
PO Prest: "We travelled by cycles, lorries, junks, and donkeys, but mostly we walked. It was a case of march or die"
Buddy Hide: "On the whole, the moral, spirits, and courage of the party was magnificent. I think it was the shear thoughts of beating the Jap's, and the prospects of getting home after three years, some of us four years from home, that made us carry on."
It is unprecedented in the annuls of the Royal Navy, that a Flotilla evaded capture to escape across an entire continent to fight another day.
Alex was a keen athlete, having been the school record holder for 440 yards, hockey player, rugby player, boxing, shooting as well as a pipe major .Educated at Kelvinside Academy; Loretto School, Musselburgh and Pembroke College, Cambridge
Company director (Bowie-Castlebank Ltd. and subsidiary companies). President, Scottish Federation of Junior Chambers of Commerce 1957. Deacon of Incorporation of Bonnet makers and Dyers, Glasgow 1960. Trustee of Loretto School.
MTB 09 with Lt Kennedy in command was in the leading sub division attacking the Japanese invading forces in Kowloon Harbour on the 19th December 1941.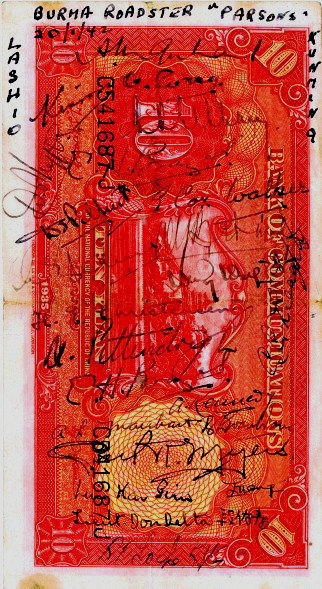 Banknotes signed as souvenirs in Kunming by escape party members, various AVG, and 204 Military Mission (Tulip Force) members who had come up the Burma Road on their way into China.
Among the signatures on this 10 Yuan banknote belonging to Lt Parsons HKRNVR are;
Photo from the Hide family collection ©
They also swapped their Chinese army padded jackets for lighter clothing with the 204 Commando Mission.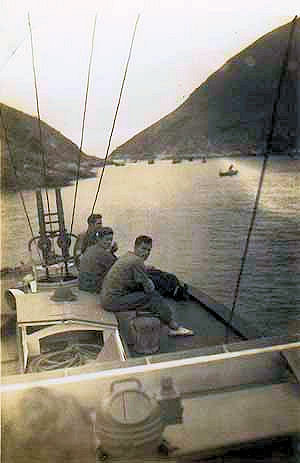 Ships Log MTB 07 9th Dec 1941
07.00 Proceeded back to base with 09
07.30Secured in Aberdeen base
08.45 Air Raid: Slipped
08.55 Secured on lighter 261, entrance to Aberdeen Channel. [5]
Some of the crew of MTB 09 taking a smoko in Aberdeen Channel 9th December 1941 during the battle for Hong Kong.
MTBs 07 & 09 spent all day together dodging bombs. [5]
From the left Stoker A/B Charlie Foster, Coxswain Bill Schillemore, and A/B Bob Hempenstall
Photo from the Ashby collection ©
Alex Kennedy and fellow senior officers jokingly referred to the highly tuned thoroughbred boats as the "Hong Kong Costly Force" rather than Coastal Force.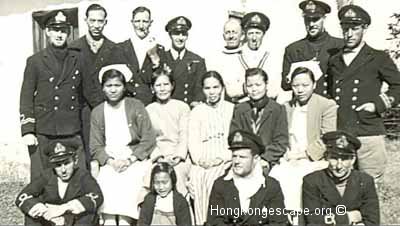 Some of the senior Officers with nurses at the Wai On Mission in Waichow.
Back Row: Lt Kennedy RNVR, Lt-Cmdr Hsu Heng (Henry) CN, Lt-Cmdr Gandy RN (Rtrd), Lt-Cmdr Yorath RN (Rtrd), Cdr Montague RN (Rtrd), Lt Parsons HKRNVR, Lt Ashby HKRNVR, Lt Collingwood RN,
Front Row: Sub-Lt Gee HKRNVR, Sub-Lt Brewer HKRNVR, Sub-Lt Legge HKRNVR.
26.08.1937 Joined RNVR (Clyde Division) as a Midshipman
6th October1939 Arrived in Hong Kong aboard the eleven thousand ton P&O Troop-ship Ettrick, the only purpose built troop-ship of the line to join HMS Tamar (RN base, Hong Kong) as Acting Sub-Lt on MTB 10 under Lt-Cmdr D G (Knobby) Clark RN the senior officer of the Flotilla followed briefly by Lt-Cmdr Boldero before taking command of MTB 09 early in 1940 from Lt K A Watson RN. Lt Kennedy gained a Mentioned in Despatches for his action in Kowloon Harbour on the 19th December 1941.
On his return to the UK he spent two years as an instructor at HMS Christopher, the Coastal Forces training base at Fort William. [54]
"I have been a sort of Marco Polo in reverse. The Chinese could not do enough for us. We were feted right across China."
Kennedy wrote Hong Kong Full Circle 1939 - 1945 in 1949 but could not get it published, he eventually self published with 500 copies printed in 1969. Due to eyesight problems Kennedy remained shore based for the duration of the war. He spent two years at the MTB training base at Fort William before enrolling on a Staff training course at Greenwich. On completion he joined the staff of Rear-Admiral Rivett-Carnac at the Admiralty working on the plans to form as advance base for the British Pacific Fleet. He was back in Hong Kong aboard HMS Pioneer in 1945 and went ashore for the unconditional surrender by the Japanese on 16th September signed by Major-General Okada & Vice-Admiral Fujita for the Japanese and Admiral Harcourt for the British. In attendance at the table representing the Allies were Major-General Pan Kwa-huo for the Chinese, an American Colonel, and Captain Greery from HMCS Prince Robert. Also in attendance was Brigadier Colonial Secretary David M MacDougall.
MTB 09 was scuttled along with the remaining 2nd MTB Flotilla off Nan'ao, Mirs Bay, China 26th December 1941
The Crew of MTB 09 at Waichow on 30th December 1941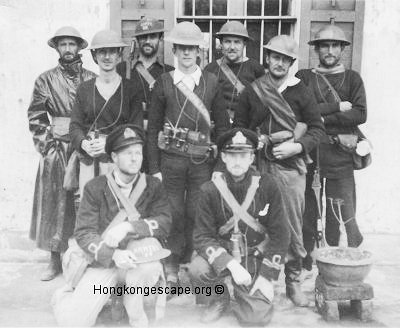 Photo from Lt Ashby's collection ©
MTB 09 Crew at Waichow,
Back Row: A/B Penny, A/B Leslie [Lofty] Gurd, L/Tel Harold. P. Hill, A/B Robert Hempenstall
Middle Row: Stoker A/B Charles Foster, L/S Coxswain William Schillemore,MiD; S.P.O. Ronald J. C. (Jez) Priestley, MiD;
Front Row: Sub-Lt Tommy Brewer, Lt; Alexander Kennedy [OC] MiD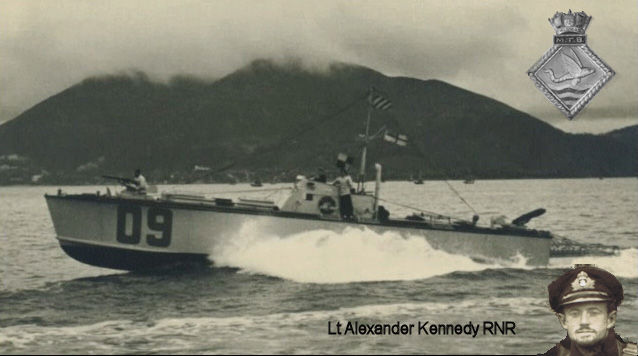 MTB 09 was scuttled along with the remaining 2nd MTB Flotilla behind enemy lines off Nan'ao, Mirs Bay, China 26th December 1941.
Photo from Lt Collingwood's collection ©
Under camouflage in Telegraph Bay on Christmas Day 1941 just hours prior to the escape that evening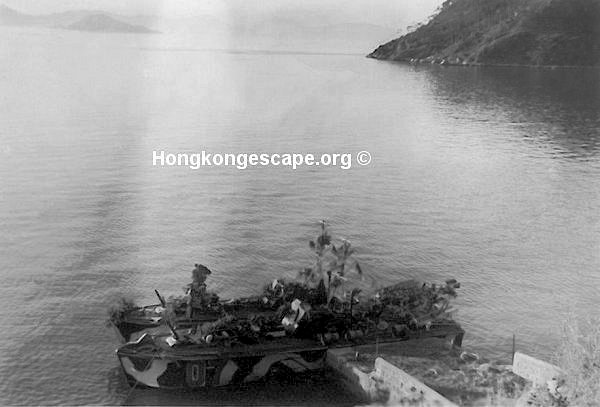 MTB's 07 & 09 under camouflage alongside the stone pier in Telegraph Bay hiding from enemy aircraft just hours before the escape, on Christmas Day 1941. 07 still has a full complement of depth charges on deck.
Photo from the Ashby collection ©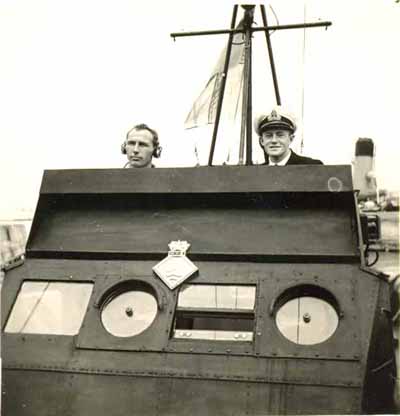 L/Tel Harry Hill ?? and Lt Alex Kennedy on 09s bridge.
Photo from the Kennedy collection ©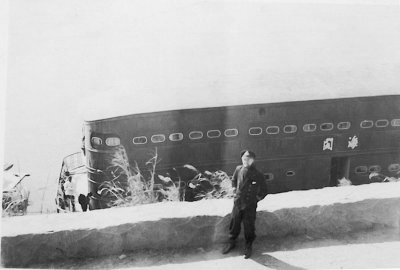 Kukong 6th-16th January 1942
Lt Kennedy at the Sea Palace in Kukong
Photo from Ron Ashby's collection ©
The Sea Palace was a floating brothel moored with the hundreds of houseboats. Lt-Col Owen Hughes arranged with the owner to have it had cleared out and rented to accommodate the escape party while at Shaoguan [Kukong].
The SOE agents also stayed here after the escape party moved on.
The Sea Palace was also used later by the BAAG after it was formed by Lindsay Ride at the Methodist Mission in Kukong for a short while.
Kweiyang 26th January 1942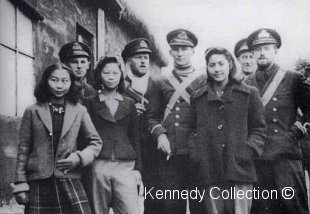 Some of the Officers enjoying a day out in Kweiyang with their female hosts including Dr Lim's 15 year old daughter Effie in the tartan kilt who spoke her native tongue with a Glasgow accent. Sub-Lt's Gee & Legge were both brought up in Shanghai and spoke Mandarin.
The officers left to right are Sub-Lt Gee [MTB 07], Sub-Lt Brewer [MTB 09], Sub-Lt Legge [MTB 11], Lt Parsons [MTB 27], & Lt Alexander Kennedy of MTB 09, the author of the self published book "Hong Kong Full Circle 1939-1945."
Photo from Lt Alex Kennedy's collection ©

Kennedy bribed a rating to carry the bronze crest of MTB 09 all the way across China and back to the UK after his 1st Officer Brewer had removed it but then decided it was too heavy to carry.
Photo from Buddy Hide's collection ©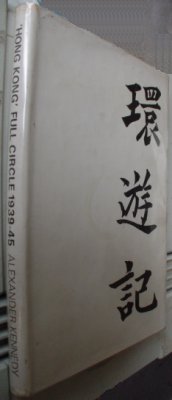 Hong Kong Full Circle 1939-1945" by Alex Kennedy. Self published with 500 copies printed by Harrison & Sons Ltd. London 1969
Alex also recounted the escape in the "Press & Journal 29th June 1942.
For more information on Alexander Kennedy click here.
Research and web publication by Buddy Hide Jnr ©
The contents of this web site led to a considerable number of escapee families contacting me and now each other, and remains the principle source of contact and private information for the spin off projects that have followed. The personal accounts enabled me to record the complete and true account of this remarkable episode of Sino-British war time co-operation. The information compiled here has directly resulted in a museum exhibition in Hong Kong, a re-enactment of the escape in Hong Kong and China, a book published, with a movie drama and a documentary in the making.
© Hong Kong Escape.org 1997