Williamson Pink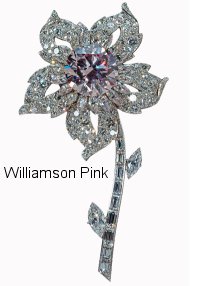 The Williamson Pink
The engagement of HRH the Princess Elizabeth to Lieutenant Philip Mountbatten, RN was announced on 10th July 1947.
Left: The Cartier designed floral brooch contains the 23.6-carat pink diamond and baguette diamonds given to the then HRH Princess Elizabeth by Dr Williamson as a wedding present.
Dr Williamson wished to add more pink diamonds to his original gift, but as these were not available, he added 170 small, brilliant-cut diamonds, 12 baguette-cut diamonds and 21 marquise diamonds, which were used to form the petals, stalk and the leaves of this brooch.
The famous Williamson Pink (54.5 carat rough) was found on the surface in 1947 by two local native boys at the Williamson Diamonds Mine, Mwadui, Tanganyika now Tanzania. They took it to the Doc's house. Dr Williamson presented the priceless cut Pink round [23.6 carat] to the then Princess Elizabeth as the centerpiece of a floral brooch for her forthcoming wedding to Prince Phillip.
Chopra recalled: "As soon as Dr Williamson heard of the engagement of the Queen in waiting, he came to visit me and my wife Thelma in Mwanza with two diamonds: one, this famous pink stone and one a 175 carat blue-white diamond. He showed both the diamonds to us, 'This young girl has been engaged and I want to send one of these diamonds to her as a present. Which one do you think?' We thought he should send the pink one. He said, 'That is what I thought. Even though it doesn't look as important right now as the big blue-white.' He decided on the pink one, and it was immediately despatched to London."
HRH Queen Elizabeth II wore a turquoise dress as a back-drop for the Williamson Pink on the front of her left shoulder for the whole world to see during the Royal wedding of Princess Diana and Prince Charles 1981.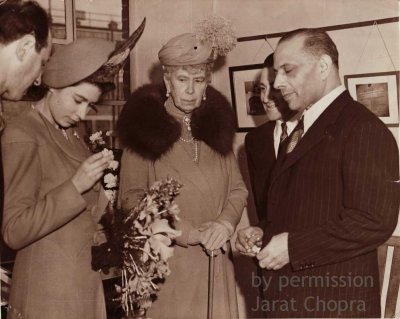 Left: HRH Queen Mary and Princess Elizabeth along with Dr Williamson's business partner Iqbal Chand Chopra KC inspecting the Williamson Pink during it's cutting and polishing at the Clerkenwell premises on 10 March 1948.
Photo from the Chopra family collection ©
The Williamson Pink brooch

The central diamond of 23.6 carats is the finest pink diamond in existence. It was found on the surface at the Mwadui mine in Tanganyika (Tanzania) belonging to the Canadian geologist Dr John Thoburn Williamson, who presented it as a wedding present to HRH Princess Elizabeth. It was cut by Briefel and Lemer of London in 1948 and set in the centre of a new brooch designed by Frederick Mew of Cartier in 1952.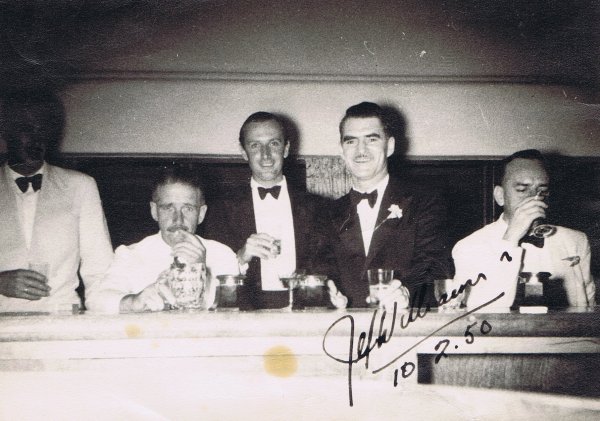 Left: John Thoburn Williamson, the diamond seeker celebrating his 43rd birthday.
His favorite tipple was whisky with lime juice, which acted as a mask on the brackish water in the early days.

Chopra recalled that on May 16, 1936, he was sitting in his law office on Nkoma Road in Mwanza when his clerk ushered in a European:" He was very gentle, he was soft-spoken and said he was a geologist and was working for a company in Nzega,
but that his work would be finished next year when he would like me to assist him over getting a prospecting right good for diamonds, and otherwise get his papers in order. He thought he would have to start on his own in 1937." In the years that followed, the two developed a symbiotic relationship based on an intangible personal affection and mutual professional respect, rather than, paradoxically, the pursuit of profit. Williamson, having learnt about the elusive nature of diamonds from old weather-beaten prospectors, followed the trail, while Chopra financed the expeditions and kept inspectors of mines and competitors at bay.
On March 6, 1940, under a baoab tree that still stands today, the source of the diamonds was discovered at Mwadui and on March 19, 1942, Williamson Diamonds Limited was registered with two shareholders and two directors.



Click here to see Mwadui in Google Maps